If you are the owner of a business firm in Hermosa Beach or Brentwood or anywhere in the US, irrespective of the size or years of the business, you need to have help from a professional accountant to manage your financial transactions. This is the situation when most business owners start thinking whether they should hire a CPA or an accountant in Hermosa Beach? There are innumerable reasons when you need to hire the services of an experienced CPA and not an accountant.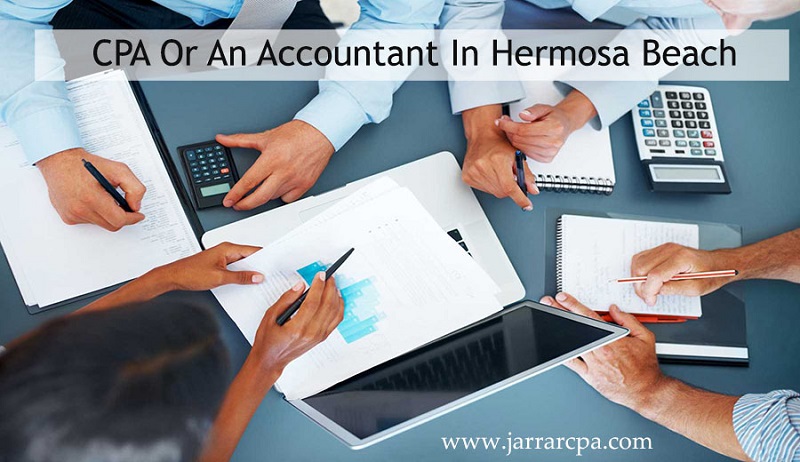 Tax laws and regulations are changing every year. Being an entrepreneur, it is impossible for you to keep updated on the changing tax laws and norms. Your key focus should on managing the business operations and not on accessing the IRS website all the time. This is the reason a full-time CPA would come beneficial for your company.

Though accountants are quite efficient and knowledgeable to handle the accounting problems, the responsibilities of the CPAs are much beyond that. Apart from handling financial transactions, these professionals help you to prepare project reports and advise you various finances, so as to get more investors for your company.
A CPA in Brentwood would not only help with your investment matters, as these are significant part and parcel of the business but would provide accurate and meticulous guidance on the accounting process, thus creating a long-lasting effect. Only a CPA can offer the right suggestions and result in the growth of your business, in financial terms. CPAs or Certified Public Accountants also have the right to negotiate on your behalf. So, you do not have to deal with the creditors anymore. If there is any such situation, your CPA would be interacting with them on certain terms and get the job done in a jiffy.
As business owners, you regularly need help with matters related to IRS. Most firms offering CPA services offer to represent you in IRS matters, where experts would be tackling your issues, while you can put your complete focus on other important aspects of the business. As you would obviously want to reduce the workload of your team, there is practically no point to engage a software engineer or designer in accounting tasks. Hiring a CPA firm would let your employees focus on the core business tasks, while the CPAs would efficiently manage the finances. Hiring a full-time accountant would be expensive while going for a CPA service at a fixed monthly price would help you save money.
Contact Us Today:
Brand:
Jarrar & Associates CPA, Inc.
Jarrar & Associates CPA, Inc. Rated
5
/5
★ ★ ★ ★ ★
Based on
15
customer reviews