In today's highly competitive market, hiring a good accountant is vital. The professional eyes of an accountant make sure all your accounting and tax work is completed with efficiency. They can be considered as the financial partner of your company.
By hiring a good accountant in West Los Angeles, you can be able to get the following benefits –
• Accounting and bookkeeping services
• Business advisory services
• Auditing
• Tax advice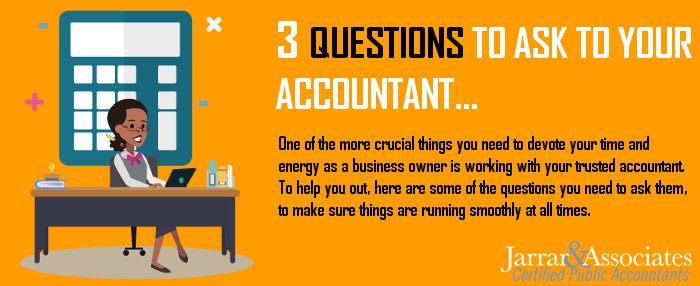 If you are a small business owner, picking the right accountant is one of the most important decisions that you can make for the growth of your business. If you fail in hiring the right accountant for your business, s/he could cost you a lot of money. There are a number of accountants and accounting service providers available in West Lost Angeles. Therefore, choosing the right accountant West Los Angeles can sometimes be overwhelming. In order to choose a good accountant for your small business, you can ask a few questions to the accountant. If you get satisfactory answers to all the questions, you can hire him without a second thought.
1. Why should we hire you?
Always remember that hiring an accountant is more important than hiring an employee in your organization because they would be responsible for handling the whole accounts work of your business. So, the account of your business can be misbalanced if you choose a wrong person. There are some basic points that you must include in your 'questions to ask' list. They are –
• The highest qualification of the accountant
• The license and certification
• Number of years of experience and
• Reputation
Make sure you have received the written proofs for all the above points. For understanding their reputation you can ask for the feedback from their previous clients. if possible, ask for the contact details of some of his/her present clients and meet them personally.
2. Why should I pay you?
Asking this question is a valid one for the small businesses and startups since they are cost-conscious. If you are a small business owner, you need to make sure the money, your accountant saves, must be more than the cost of employing him/her. If you are not satisfied with his behavior or charges, don't feel bad to reject him. Also, ask them how they charge hourly, weekly, monthly or annually. Only go to the next step if it suits your budget and requirement.
3. Will we be a good team?
It is quite crucial to know whether you and your accountant are a good match or not. In order to understand if the accountant, you consider choosing, is a good match for you, make sure s/he has already worked with the startups/small businesses. If they have previous experience of working with a similar size business, they would understand your challenges and requirements the most.
Next point, that you need to include to know they are a good match for you, is their friendliness. You can discuss everything with a friendly accountant about your current financial situation. Also, ask what their mode of communication would be. They can correspond you through email or telephone. It does not matter what the mode of communication is, make sure you are in touch with them always.
A healthy relationship is the foundation of a good starting. The more you communicate with your accountant, the more beneficial it would be for your business. By asking the above three questions, you can be able to choose a good accountant in West Los Angeles.