Becoming a CPA is probably one of the most prestigious professions after a health officer. A Certified Public Accountant or CPA gets a higher esteem in the eyes of professional peers, business contacts, regulators, and clients alike. This is due to the fact that a CPA has to undergo certain minimum educational requirement, pass a rigorous four-part examination, and agree to abide by a certain code of ethics. This is the reason the designation of CPA in Beverly Hills is one of the most versatile and sought-after credentials for accountants.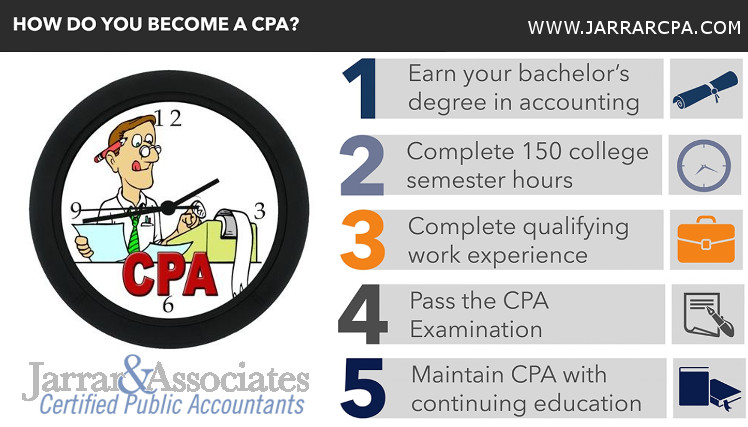 Steps to becoming a Certified Public Accountant
1. Getting the required education:
To become a CPA in Beverly Hills, you need to find about the various accounting programs offered by the colleges and universities in CA. According to the California Board of Accountancy, all CPAs need to have a bachelor's degree and 150-semester units of education. The program you attend should be accredited by any of the regional or national agencies listed in the U.S. Department of Education Database of Accredited Postsecondary Institutions and Programs.
2. Taking the Uniform CPA examination:
Once you are granted the bachelor's degree and the course requirements of the CBA (California Board of Accountancy) get fulfilled, then you can appear for the Uniform CPA examination. You can do online registration at the CBA's website to take the uniform CPA examination.
3. Acquiring necessary experience:
If you want to become a licensed CPA, then after clearing the examination, you need to have prescribed work experience. You need to complete twelve months of general accounting experience (including use of financial advisory, consulting tax, compilation, management advisory, accounting skills) and 500 hours of attest experience (involving experience in planning the audit and selecting procedures, preparing and reporting full disclosure financial statements, preparing working papers, preparing written comments and explanations on the work performed, and applying a variety of auditing techniques and procedures. You can gain the required experience in private industry, public industry or a government sector and the earned experience needs to be documented.
4. Getting CPA license:
Once you meet the requirements and experience as stated by the California Board of Accountancy, you are ready to get the CPA license. The CBA makes it easy for you to get the reciprocal CPA license in CA, even if you hold the certificate and license from another state through the interstate reciprocal license.
5. Continuing education in Beverly Hills:
As a licensed CPA Beverly Hills, you need to complete CPE (continuing professional education) hours in order to keep the license active and updated. At every two years, you need to complete 80 hours of CPE, of which at least 20 hours of CPE needs to be completed in one year, at least 12 hours of CPE needs to be completed in approved subjects each year, and minimum 4 hours should be completed in ethics every 2 years.
After all these steps, you become a licensed CPA and can further specialize in management, finance, auditing, governmental accounting, forensic accounting, and information systems accounting.