If you are a small business owner in Beverly Hills, you would know the importance of hiring a CPA. This is true that some businesses do their tax and accounting work themselves, but if you are not an expert in this, hiring an expert would be a wise idea. Only a professional knows how to make your work done in the most efficient way possible.
Being in the tax and accounting industry for years, we understand it is not an easy task to hire a CPA in the Beverly Hills. You have to conduct a thorough research to hire the best CPA Beverly Hills. However, before starting your research for finding the best CPA, you need to know who can be the best CPA for you. Every business does not need the same service from a CPA. Therefore, the definition of the best CPA might vary from business to business. In order to understand who is the best CPA Beverly Hills for you, you should know a few things about yourself and about your business. Below are discussed a few questions that you can ask yourself to understand what type of CPA would be the perfect option for your business needs.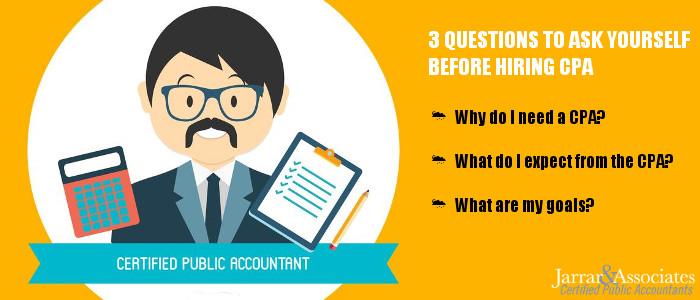 Why do I need a CPA?
The very first question that you need to ask yourself is, why you need a CPA. A certified public accountant can help you in multiple ways.
They can help you in
• preparing your taxes
• IRS audit
• Looking after your business payroll or
• Doing all of the above
Knowing your need is highly important to choose the best.
What do I expect from the CPA?
Depending on the business, your business needs might be different from the others. However, every business owner expects a few basic things from his/her CPA, that are –
• A relationship of trust
• Proactive advice
• Straight-forward counsel
• Worry-free approach
• Comprehensive services
What are my goals?
After knowing what your business needs are and what you should expect from your CPA Beverly Hills, you should set a goal that you want to accomplish with the help of your CPA. Note down your goals to make them more strong. Make sure the CPA, you consider choosing, is able to accomplish your goals.
When you get the answer to the above questions, it becomes easier for you to search a good CPA in Beverly Hills. You already know by considering a few factors, you can find a good CPA. The thing that is more vital is to know the definition of a "good" CPA for your particular business. Hope, you will be able to find your good CPA by asking yourself the above questions.
CONTACT US TODAY FOR A CPA